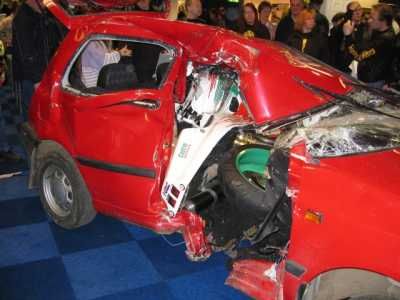 One rooted RC45 Honda
This is a "cleaned up" version. The police cleaned it out and put it back together to show what CAN happen.
The Honda rider was traveling at "very high speed" and did not see the golf. Swedish police estimate a speed of ~250 KM/h when he hit the car.
The car had two passengers and the bike rider was found INSIDE the car. This is a graphic warning of what CAN happen if you turn it on and don't have the sense to turn it of. This demonstration was placed at the Stockholm Motorcycle fair by the Swedish Police and Roadsafety department.
The Volkswagen flipped over from the force of impact and landed 10 feet from where the collision took place. All three involved (two in car and rider) were killed instantly.
The MC-rider had a new license.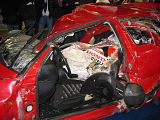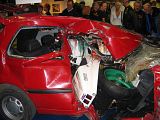 I reckon I would have been the motorbike rider if I had one in high school. Yes let the distant past come back and haunt - let the chirps fly ChumpStylers.
Update: Thanks to Tsarlie Hugo for the submission