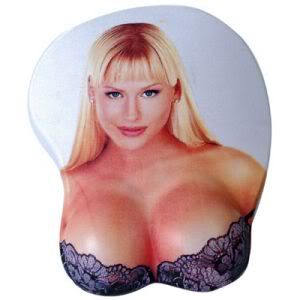 Rest your wrist on this silicone bosom buddy to alleviate RSI symptoms!
I have no
fucken
clue what RSI is (
RadioSonnerIntelligense
maybe? A bad joke which you may use by the way.), but I have to say its an awesome invention none the less. Breasts to alleviate the pain when belting your mouse across the dinner table (not that I surf for porn at the dinner table, I was just saying). Honestly who comes up with shit like that?
This
along with a whole bunch of other cool stuff like can be found over at
GadgetGuru
. Another item that caught the fancy is a
shot glass chess table
. Now you can get wasted and humiliated by your geeky mate all in one quick game of chess, tell that to yo
mamma
.
Hey, go and spread the love - burn some plastic. I definitely would if I actually had the plastic to burn, but alas two car accidents in the last 2 months have set me back somewhat. They have also placed me firm at #4 on the insurers "Bring him back dead or alive" list. Catch me if you can bitches...